OTECO Fluid End Parts
High Quality Oilfield Equipment and Accessories Since 1948
OTECO offers a full line of quality fluid end pump parts for all popular mud pumps to suit any drilling condition. OTECO Fluid End Parts are manufactured to exacting standards that meet or exceed original equipment specifications and API standards.
Bonded Urethane and Premium Pistons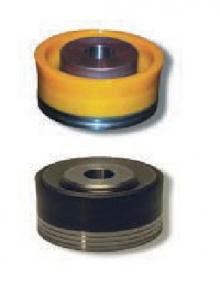 OTECO's innovative bonded polyurethane piston dramatically extends service life in triplex mud pumps with ample water cooling. Harder, more dense polyurethane construction provides superior resistance to abrasive fluids providing optimum service life in harsh drilling conditions. In addition, the urethane construction is especially resistant to chemicals and oil based drilling muds with varying aniline points.
The multi-ply, fabric reinforced backing used in the production of the piston rubbers provide positive, wear resistant seals. High tensile strength, resistance to chemicals, hydrocarbons, and abrasion, long lasting service, and full interchangeability with other API designed pistons makes the OTECO Premium piston a sound value.
Wing Guided Valves and Full Open Seats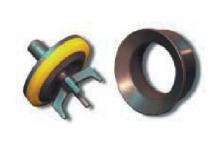 The OTECO premium wing guided valve and full open seat features greater fluid flow through the full open seat. The full open seat provides easier valve maintenance and seat pulling, in valve-over-valve fluid ends. Innovative unibody valve design eliminates snap rings, plates or keepers providing reduced maintenance by snap-on valve inserts. This combination will handle lost circulation material better than most conventional style valves and seats while the seating angle greatly improves flow characteristics and the heavy-duty load bearing capacity greatly improves service life.
Premium Stem Guided Valves & Seats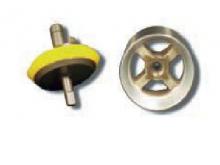 The OTECO premium stem guided valve and seat features an extra wide metal to metal seal on the valve flange. The serrated upper surface on the valve gives a longer non-breathing seal between valve body and insert while the rigid seat cross-arms give greater strength and positive sealing. The strong, thick, valve knock off nut holds the insert tightly reducing flex and breathing which lessens the chance of foreign matter getting between valve and insert. The premium stem guided valve and seat provide good value, are economically priced, and weigh less than many competitors valve and seat.