OTECO Rig Hardware
High Quality Oilfield Equipment and Accessories Since 1948
Manifold Fittings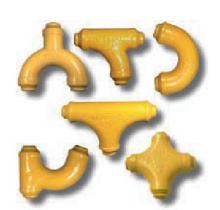 OTECO manufactures ten different styles of manifold fittings in 2 inch, 3 inch, 4 inch, and 5 inch with working pressures ranging from 3,000 psi to 5,000 psi with test pressures up to 10,000 psi. Each fitting can be supplied with either line pipe threads, or Schedule XX or 160 buttweld end connections. Special connections are available upon request. All fittings are hydrostatically tested prior to shipment and full certification can be supplied upon request.
Available OTECO Manifold Fittings include:
45° Long Sweep Ells
180° Standpipe Gooseneck
90° Long Sweep Ells
Long Sweep Full Flow Cross
90° Long Sweep Ells with 2 in. outlet
Long Sweep Full Flow Tee
160° Standpipe Gooseneck
Long Sweep Tee
160° Standpipe Gooseneck with top outlet
Long Sweep Y
Wireline Equipment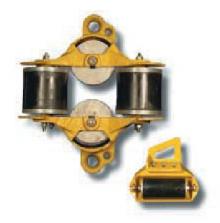 OTECO manufactures wireline turnback assemblies and components. In addition, we have replacement rollers for BJ model code Roliguide. OTECO also offers complete wireline guide units and wireline guide hanging assemblies for most beam or angle type derrick.
Mud Guards and Oil Guards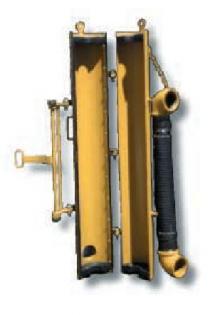 OTECO mud guards come in two models: the MG-600 and MG-800. OTECO mud guards have proven cost effective in saving the expense of lost drilling fluids, reduced labor for rig wash down, as well as reducing the potential for accidents due to slippery rig floors. The MG-600 is 6ft. x 10-3/4 in. and can handle drill pipe sizes from 2-3/8 in. to 5-1/2 in. The MG-800 is 6ft. x 16 in., its larger cavity is designed for drill pipe sizes from 2-3/8 in. to 6-5/8 in. and can handle larger volumes of line fluids. Both models can be supplied with neoprene or nitrile end and side seals.
Oil guards have similar in design as the mud guards, the OTECO Oil Guard, MG-500 is 4 ft. x 6 in. and is designed to handle tubing sizes from 2-3/8 in. to 3-1/2 in. The oil guard is proven effective in saving lost oil as well as protecting the environment. As with mud guard, end and side seals are available in either neoprene or nitrile compounds.
OTECO Mud Guard Parts Manual» Download