OTECO Rubber Products
High Quality Oilfield Equipment and Accessories Since 1948
BOP and Control Head Products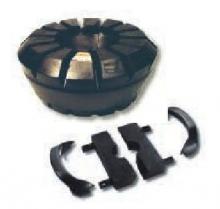 OTECO provides replacement packing units and seals for the Hydril 'GK' & 'MSP' and Regan type 'K' annular blow out preventors. These items are available in natural, neoprene, and nitrile rubber compounds with each unit tested to its full working pressure prior shipment. In addition, OTECO offers replacement rubbers for Shaffer type '39', Guiberson types 'A' & 'B', and Cameron types 'QRC', 'SS', and 'U' ram type blow out preventors.
Diaphragms & Bladders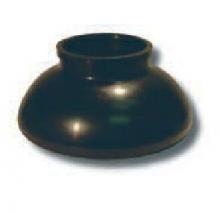 OTECO supplies replacement diaphragms and parts for the Hydril and Mattco 10 and 20 gallon pulsation dampeners. These diaphragms are molded in one piece and are available in 1500 psi, 3000 psi, and 5000 psi ratings. They also have a metal insert molded into the bottom to prevent extrusion into the bottom flange connection. Stabilizers, plates, screws, lock washers, bottom plate gaskets, charging valves, and pressure gauges (0-6000 psi) are also available.
Pipe and Kelly Wipers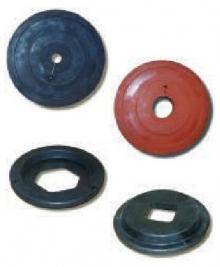 OTECO offers a wide range of pipe and Kelly wipers. These pipe wipers are offered in single, double, oval, and handle bar types and are available in either natural (black), or oil resistant (red) nitrile rubber compounds. In addition, the double wipers are available in solid, split, and split rap-a-round configurations. OTECO pipe wipers offer greater tearing resistance due to a reinforced insert molded to the resilient live rubber.
OTECO Kelly wipers are molded from the same high quality rubber as the piper wipers and are offered for both square and hexagonal kellys. The Kelly wipers are reinforced with a bonded metal ring to provide longer service life for the wiper as well as the Kelly drive bushing.
Rotating BOP & Tubing Stripper Rubbers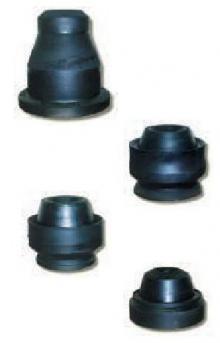 OTECO manufactures a wide range of models and sizes of rotating BOP and tubing stripper rubbers. The current rotating BOP models offered include the interchangeable parts for the Shaffer Type 50, 74, 79, Lynn International, Shaffer 51, and the Grant 7068. Tubing stripper rubbers are offered for the following stripper heads:
Beaumont Iron Works PX-70 and PX-107
Cameron Petromec PC & QD
Guiberson Type J2 & JU
Gulfco Type TT & S6
Hillerman Kelley Type HK
Hinderliter Type SS, 4-S, & 4-1
Hydril Type RS
Larkin Type K & SR
Norris Hinderliter 4-1
Oil center tool type J-1, JF-1, Type T-16
Rector Type R and Type SS
OTECO Rotating BOP & Tubing Stripper Rubbers Details and Specifications» Download