SUPREME MFG

Patriot Piston ST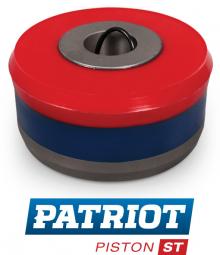 Make Life Good In The Pump Room
Engineered to out perform all other polyurethane pistons on the market today, Patriot Pistons are built to be compatible with and deliver superior performance in today's OBM and Synthetic drilling mud. Longer piston life equates to longer liner life greatly reducing the costs associated with mud pump expendables and the time involved in making the necessary changes.
Designed to meet pressures of 7500 psi and temperature up to 220 degrees F, the Patriot difference is in the solid lip "Bullnose" designed piston head which is composed of two different durometer urethane compounds bonded together for superior performance.
Features & Benefits:
Proven, reliable performance in every piston
Resistant to high pressure, abrasion, heat and extrusion
Trusted on the largest domestic and international rigs in the world
Averages 30%+ longer life than other mud pump pistons
Multi-durometer bonded urethane allows for longer piston life
"Bull nose" lip design seals for less 'squirt' which reduces flush system contamination
Superior lip and cut back hub design reduces wear on the liner dramatically lowering mud pump operating costs
Available in a custom wooden box for protection during shipping
Patriot Piston HT
Engineered For Top Performance In The Most Extreme Conditions
The Patriot HT Piston is designed to perform in the harshest of drilling conditions. It is compatible with all applications and mud types and will withstand operating temperatures up to 300 degrees and pressures up to 7500 psi. Superior designed and ultra-durable high temp urethane allow the Patriot HT to out perform all other "extreme condition" mud pump pistons on the market. If you want to keep your pump performing, don't settle for the cheap or the familiar – go with a Patriot Piston.
Features & Benefits:
Proven, reliable performance in every piston
Resistant to high pressure, abrasion, heat and extrusion
Trusted on the largest domestic and international rigs in the world
Averages 30%+ longer life than other mud pump pistons
Multi-durometer bonded urethane allows for longer piston life
"Bull nose" lip design seals for less 'squirt' which reduces flush system contamination
Superior lip and cut back hub design reduces wear on the liner dramatically lowering mud pump operating costs
Designed to withstand extreme drilling conditions in all applications
Our High Temp piston will perform in all types of drilling mud allowing it to be used at any point in the drilling process
Available in a custom wooden box for protection during shipping