Weco® Integral Fittings and Pup Joints

Maximize Recovery. Not Same Day. Now.
FMC Technologies Weco® Integral Fittings and Pup Joints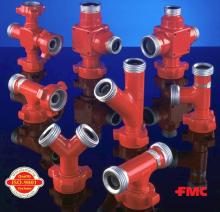 Now there's a new Lightweight Fittings family that is ideal for handling a complete range of well servicing fluids at cold working pressures to 20,000 psi. Available in 1- to 4-inch sizes, FMC fittings feature high-quality forged construction with integral Weco wing union end connections for a high-strength, high-integrity connection every time. Tees, elbows, crosses, wyes, and laterals can be combined to suit virtually any installation. Like other FMC flowline products, FMC's Integral Fittings come with full material traceability and can be supplied with Charpy impact values.
Plug Valve Manifolds
FMC Integral Fittings can be used in combination with FMC Plug Valves to create manifolds for choke-and-kill, well testing, squeeze, flow back, and cementing applications. Unlimited manifold designs using FMC's advanced ULT and world proven DR Plug Valves can be easily constructed. Because FMC's new line of integral fittings are lighter and smaller, you save valuable weight and space regardless of manifold design.
Download FMC Weco® Integral Fittings Catalog for FMC Integral Fittings and Pup Joints Quick Reference and Dimensional Data.